by Yolandé Stander for Knysna-Plett Herald

Plett and polo go hand in hand and it is almost time to celebrate the sport as the annual polo season starts at the Kurland Polo Estate later this month.
Before the polo estate was established, there was no polo in the area, but over the years it has grown to become one of the most prolific polo venues in Africa. It not only promotes the area, but has also become an industry that generates more than R40m per year. 
During the polo season, which usually starts late in October and runs until April, the number of polo ponies in the area swells to about 700 and the number of grooms to about 140.
This season's calendar is packed with warm-up weekends starting later this month and the polo bouts starting early in December, with the Shamwari and Kurland Cups from 4 to 10 December.
Various tournaments will be played until the arrival of the highlight on the polo calendar – the Plett Polo Festival, which is set to take place on 29 December at the Pavilion at the Kurland Estate.
"We will be having our usual high-goal polo game along with a ladies international this year," organisers said. The event is not just for polo players and enthusiasts, but a family fun day out with good food and other entertainment.
Organisers said they are also in the process of upgrading their pavilion and are looking forward to welcoming visitors to their new deck.
The festival, which also includes an after-party on the field below the deck, is set to take place on 29 December between 12:00 and 21:30.
Entries for this year's events are limited to eight teams per section.
Various other tournaments will be hosted throughout December and into 2024.
For more information, email Ashleigh Robertson at info@plettpolo.co.za.
Come to Kurland Estate for various polo events throughout the summer!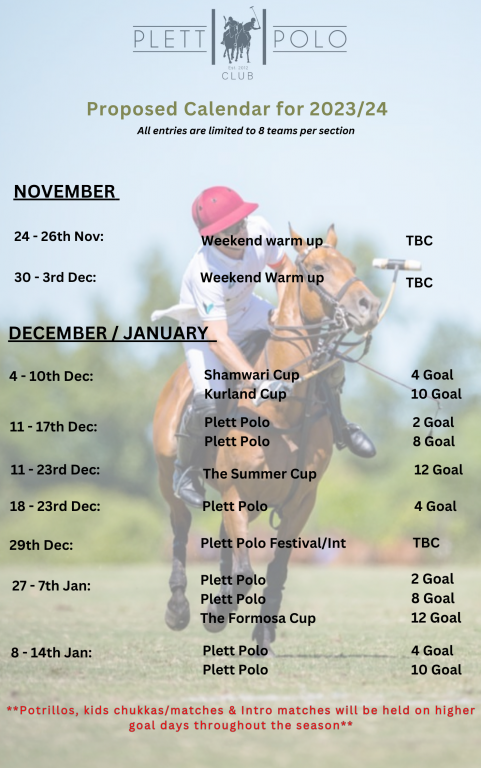 ---